The following is included in this e-tech newsletter:
History of TSE barrels: all are not equal!
New Leistritz Extrusion brochure available for download
Leistritz to host 2 training events in 2019:
- Pharmaceutical-Nutraceutical Extrusion Seminar, June 12-13, 2019
- Twin Screw Workshop, December 4-5, 2019
Processing Thermoplastic Urethanes (TPUs).... various systems are explained
Technical tip: cleaning TSE barrel cooling bores
Leistritz collaborates with the Polymer Processing Institute for analytical testing
2019 Calendar of events
History of TSE barrels: all barrels are not created equal!

State-of-the-art twin screw extruders integrate modular barrels with electric cartridge heaters and 2 inlets/outs for liquid cooling via internal bores. 1950s era barrels were made from one-piece of steel and nitride hardened and cooled by external blowers. In the 1970s and 1980s screw rpms increased and modular barrels (i.e. 4 L/D each) became the industry standard and denoted as follows:
1960s: barrels were round with external air cooling via blowers 1970s: barrels became segmented and high-performance barrel liners became available 1980s: internal bores for liquid cooling became the preferred design with electric plate heaters 1990s: cartridge heaters were introduced with higher wattage, less cost and maintenance 2000s: 2-inlets/outlets for each barrel increases coolant flow-rates and heat transfer capabilities.
Modern state-of-the-art barrels look like this:
Leistritz Extrusion Technology brochure
A new 16 page brochure is available that describes current range of twin screw technologies and services available from Leistritz.
To download the new Leistritz Technology brochure CLICK HERE.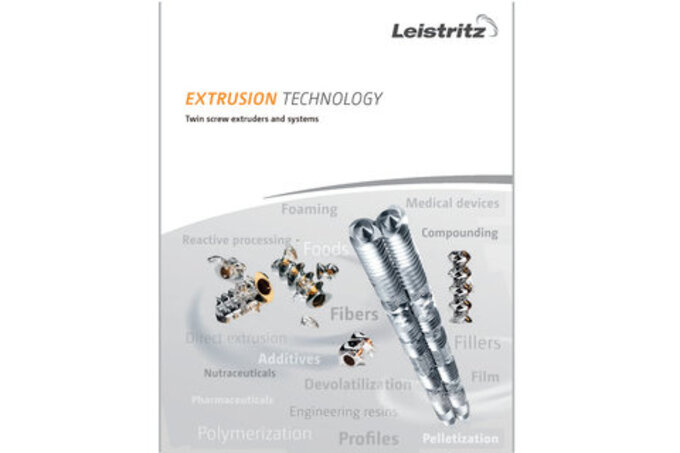 Leistritz to host 2 twin screw technical training events in 2019
These programs are workshops, not conferences!
Basic twin screw theory is supplemented with topical subjects, hands-on twin screw demonstrations, and interactive screw assembly sessions. In addition to Leistritz staff, industry experts and academia will contribute to the program content. In 2019 we will host our annual training events as follows:
Leistritz Pharmaceutical-Nutraceutical Extrusion Seminar - June 12-13, 2019 (CLICK HERE)
Leistritz Twin Screw Workshop - December 4-5, 2019 (CLICK HERE)
Processing TPUs via twin screw extrusion
Twin screw extruders (TSE's) are commonly used to many thermoplastic polyurethane (TPU) formulations. TPU's tend to be heat and shear sensitive, which must be accommodated in the TSE design, as well as soft and sticky, which may require special downstream system considerations. The following are a few examples of TPU TSE systems:
TPU reactive extrusion system with underwater pelletization: Liquids are injected into the TSE process section. Reaction cylinders and high-speed mixers are commonly integrated into the design. Intimate mixing with a low peak shear is managed by the selection of distributive mixers.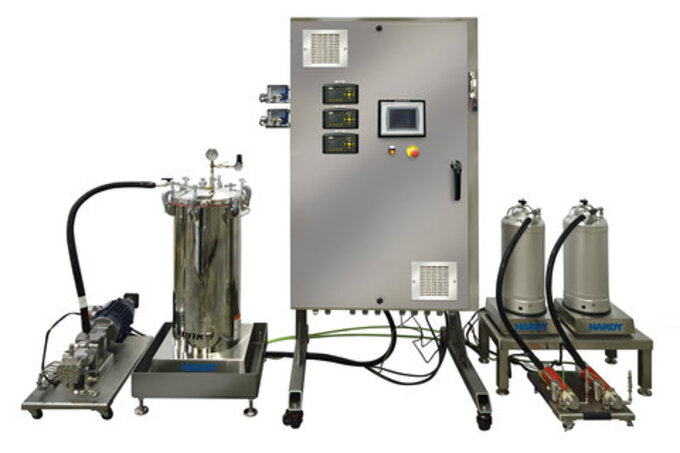 Loss-in-weight liquid injection system configured for reactive extrusion
The TSE screw design, process section temperatures and operating conditions all play a role in the final molecular weight and molecular weight distribution. The feed rate versus TSE screws rpm manages the required residence time and residence time distribution to facilitate the reaction. The stress rates and temperatures also play roles in controlling the reaction and urethane formation. Volatiles are removed by vacuum venting.
The TSE is then mated to an underwater pelletizer. A PLC ensures consistent and repeatable start-up and process management. Gear pumps can be integrated into the system for micro-pellets (less than 1 mm) production or if ultra-fine filtration is required.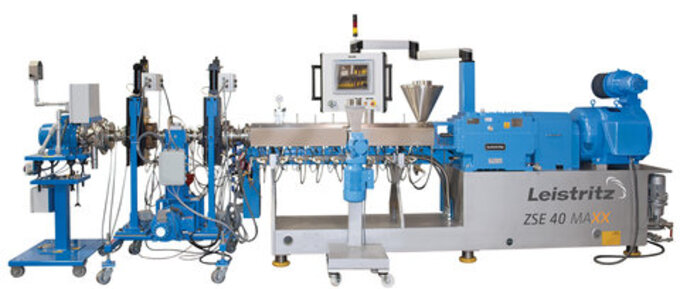 ZSE-40 MAXX system with underwater pelletizing with multi-task downstream operations
The TSE is then mated to an underwater pelletizer. A PLC ensures consistent and repeatable start-up and process management. Gear pumps can be integrated into the system for micro-pellets (less than 1 mm) production or if ultra-fine filtration is required.
TPU direct sheet extrusion: Pellets/additives are metered by a loss-in-weight feeder(s), often with a nitrogen purged hopper. Fillers or fibers are then metered to the side stuffer that "pushes" the material into the melt stream. The materials are then mixed, vacuum vented and discharged from the TSE. A gear pump the builds/stabilizes pressure to the die. The same process sequence applies to other extruded parts, such as a film, tube, filament, fiber or profile.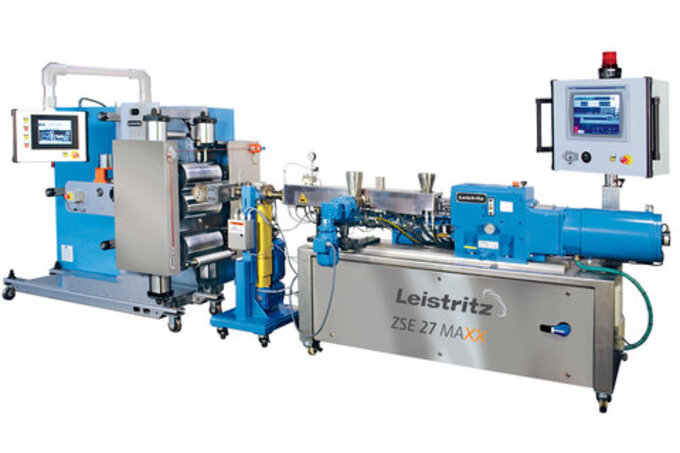 ZSE-27 MAXX with gear pump and direct sheet extrusion system
TPU/supercritical foamed profile: TPU and additives are metered into a TSE and melted/mixed. Dynamic seals are integrated into the screw design to accommodate the high-pressure injection pressures inherent with a supercritical fluid. The injection system is equipped with a precision injection pump.
Once the supercritical fluid is injected and mixed with the molten TPU the the screw design then utilizes low energy input pumping elements to allow the barrel sections to help cool the melt. At high rates, for improved cooling, a single screw pump may be specified to help cool the melt and pressurize the die.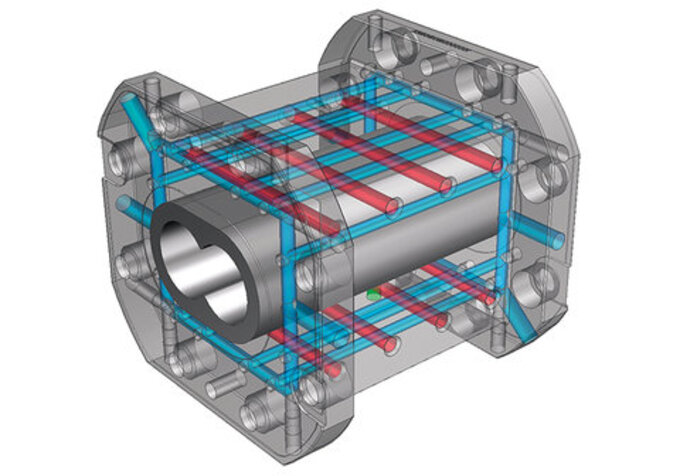 TECHNICAL TIP: Acid flushing of barrel cooling bores
Liquid-cooled extruder barrels are essentially heat exchangers with coolant bores that are subject to scale build-up. Most operators notice that the cooling performance is initially better than after 5 years of operation. This is because the new barrel has fresh-drilled cooling bores, and the older machine has a layer of mineral deposits lining the bores, that act as an insulator.
If left unchecked, scale build-up results in reduced cooling efficiencies as the cooling bores become blocked. If this happens, the only solution is to remove the barrels from the extruder and drill out the cooling bores... a time consuming procedure.
A simple procedure to maintain cooling efficiencies is to periodically circulate a scale removal chemical through the cooling bores as part preventative maintenance protocols. A recirculating de-scaler unit (the same as commonly used for molds) is all that's required. For production TSEs approx. once/year is recommended.
Leistritz collaborates with the Polymer Processing Institute for analytical testing
The Leistritz New Jersey process laboratory includes five twin screw extruders with screw diameters from 16 to 50 mm, 40+ feeders (for pellets, powders and liquids) and downstream systems for pelletizing, film, sheet, tubes/profiles, coextruded and foamed parts. Approximately 100 lab tests are performed annually at this facility. We have entered into an agreement with the Polymer Processing Institute at New Jersey Institute of Technology will make its analytical services available.
Check out the testing equipment the PPI has to offer.
If you want to know more on the PPI CLICK HERE.
Visit Leistritz at these upcoming industry events
SPE Medical Plastics Minitec - Feb 4, Anaheim, CA
MDM West - Feb 5-7, Anaheim, CA
SPE Polyolefins 2019 - Feb 24-26, Houston, TX
SPE ANTEC, Mar 18-21, Detroit, MI
Plastimagen - Apr 2-5, Mexico City, Mexico
SPE Minitec-PLUS - May 1-2, Charlotte, NC
AMI Extrusion Expo - May 8-9, Cleveland, OH
Re|focus Sustainability & Recycling Summit - May 20-22, Grand Rapids, MI
Leistritz Pharmaceutical-Nutraceutical Seminar - Jun 12-13, Branchburg, NJ
Plastic Technology's Extrusion 2019 - Sep 17-19, Rosemont, IL
SPE CAD RETEC - Sep 23-25, Cleveland, OH
K 2019 - Oct 16-21, Dusseldorf, Germany
PharmSci 360 - Nov 3-6, San Antonio, TX
Leistritz Twin Screw Workshop, Dec 4-5, Branchburg, NJ


We look forward to seeing you at these events!
To receive more information on anything contained in this newsletter e-mail sales@leistritz-extrusion.com.
Leistritz Extrusion
175 Meister Ave.
Somerville, NJ, 08876, USA
extruders.leistritz.com
Tel +1 908-685-2333
Fax +1 908-685-0247