Optimal interaction of all components
The components of an extrusion line have to interact in an optimum way in order to reliably fulfil their process tasks. Leistritz builds the peripheral equipment that is placed directly at the processing unit in-house (e.g., side feeder, side degassing, vent, etc.). All other up- and downstream components are provided by our long-term partners. Our customers benefit from this proven cooperation, because it guarantees a smooth operation of the plant. In the early engineering phase we already compile all relevant parts for the process and specify important parameters: Which pneumatic conveyor? What kind of feeding system? Vaccum pump? Which pelletizer?
Additional options from Leistritz
die heads
side degassing
side feeders
vacuum ports
Leistritz Side Feeding
Easy material feed - modular adjustment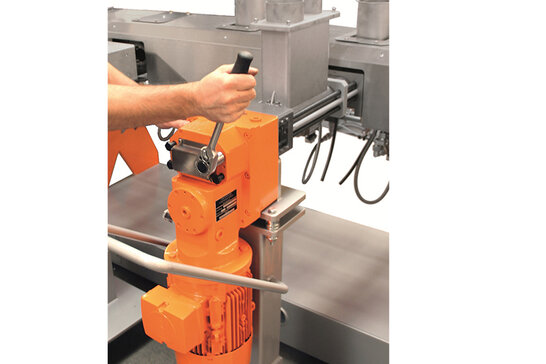 The side feeder is mostly used to add powders. Leistritz can off er the right side feeder for every application and all extruder sizes. The LSB XX series convinces through the high OD/ID ratio (2.0) of the screws and can also convey materials with very low bulk densities
Leistritz Vertical Degassing (LVE)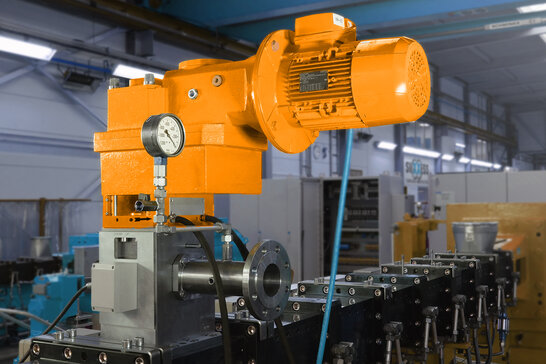 The LVE is a safe and simple alternative to conventional vacuum domes. The two screws, which rotate in the same direction are built into the degassing unit, push the possibly rising melt back into the process chamber, but allow all gases to escape. This prevents blockages or deposits in the degassing barrel. The large free volume in the screw channel (OD/ID = 2) creates optimum conditions for degassing the polymer melt.
This is what the LVE offers:
Increased operational reliability: Even under changing process conditions, the degassing opening does not clog.
Improved product quality: The self-cleaning screws prevent material deposits and hardening in the vacuum dome.
Reduced maintenance requirements: Due to the significantly lower cleaning requirements, downtimes are minimized and production costs are reduced.
Reduction of the risk of accidents: The elimination of optical controls or mechanical interventions in the degassing opening reduces the risk of accidents, especially during start-up.
Old vacuum domes can easily be replaced by an LVE using an adapter.