Leistritz keeps your extruder running
Our competent and experienced team attends you before, during and after your purchase. During the whole lifecycle of your line our technicians and sales staff are at your disposal either via phone or directly on site. Our aim is to keep your extruder running.
+49 (911) 4306 444
You can reach us from Monday - Friday, 7 a.m. - 8 p.m., weekends 8 a.m. - 2 p.m. under the Leistritz Service Hotline
or via e-mail: extrusion-service@leistritz.com
Spare parts
Global, quick and flexible
Our after-sales specialists support you professionally and competently in the selection of the relevant spare parts and take care of the quickest possible delivery. The barrels and screws are produced exclusively in the Leistritz plant in Germany. The quality of our original spare parts is thus very high, guaranteed by top quality materials and well-founded know-how.
Upon request we will gladly configurate a spare part package that is tailored to your extrusion line. Our highly motivated team of spare part specialists is looking forward to advise you.
What you gain from us is:
professional and competent advice
reliable and quick handling
original spare parts
spare part packages
worldwide delivery
Contact
Christian Keim
Head of Spare Parts Service Leistritz Extrusionstechnik GmbH
Tel.: +49 911 4306-771ckeim@leistritz.com
Preventive Maintenance
Be on the safe side!
Don't wait for a system standstill to check the condition of your plant! Machine parts that are in daily use are always exposed to wear and tear. Knowing the condition of your extruder is the best way to ensure long-term production. This can only be achieved by a regular preventive inspection of the plant by a Leistritz technician. In doing so, upcoming repairs will be detected early and unplanned, often costly, failures and damage can be avoided.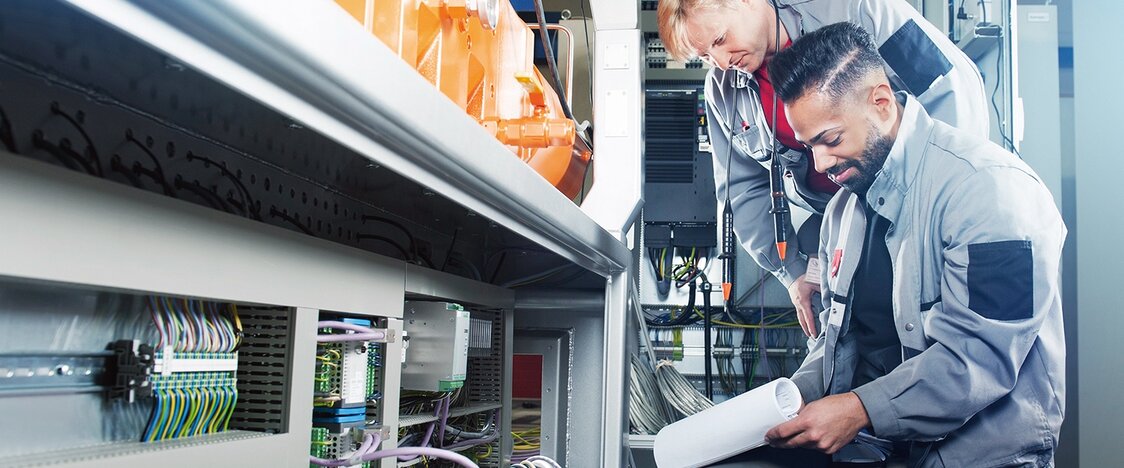 Get active and take advantage of a regular* preventive maintenance:
Reducing unplanned machine downtime to a minimum
Ensuring production
Improved efficiency of the production line
Reduction of spare parts inventory
Improved operational safety
Avoidance of consequential damage
*We recommend the first check up 8-10 months after commissioning, then annually.
Repair Center
Quick and efficient repair of screw sets and processing units
The most common reason for decreasing product quality, reduced throughput or instable processes are wornoutscrews and barrels. If one of these cases occurs, there is need for swift action. Without timely repairs yourline can be severely damaged. And this results in unplanned, oftentimes tedious and expensive downtimes andproduction losses.
Therefore, be prepaired and make use of our internal repair service! Within the shortest time you will get aready-to-use, overhauled set of screws or barrels.
These are the benefits of our repair service:
bushing of inliners (liners)
wear measurement incl. detailed measurement report
quotation
cleaning of the cooling bores
exchange of worn-out screw element
crack testing
service rendered is calculated on the basis of the actual expenditure of work
*NEW* Service for disassembly of screw elements
Commissioning
For a save start
As your service partner we will accompany you all the way, starting with commissioning. Thus you will enjoy all advantages and the best performance of your extruder from day 1.
For a smooth and save start we offer you the following services:
establishing first contact when product is ready for dispatch
checklist for preparing commissioning
installation check-up
set-up of optimized system parameters
test run
commissioning certificate
practice-oriented instruction of machine operation
Modernization/ Upgrade
New solutions for existing systems
Do you have an old system which you want to optimize in terms of technology? Or have your production conditions and thus also your machine requirements changed? We offer you a realistic estimate of the actual and target condition in order to subsequently show you a quick, economical and technically perfectly designed solution. We also carry out complete retrofits as required.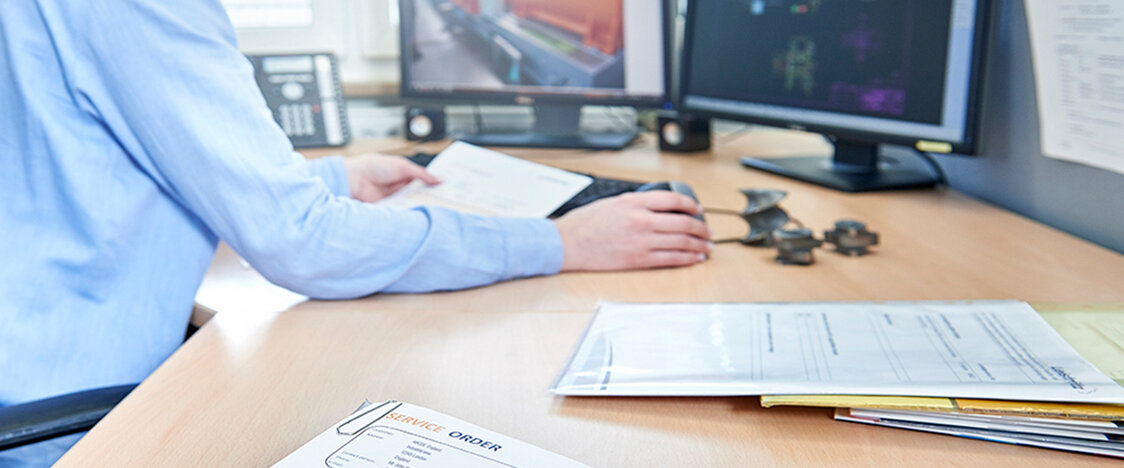 Machine retrofits are often accompanied by software changes and new electrical developments within the controls. We are happy to carry out these adaptations for you - appropriately and according to the scope.
We are available to you when dealing with bringing your extruder controls up to date. We recondition our MacromateXX Basic and Professional from Herkules-Resotec and Siemens and bring them back updated. Where necessary, we adapt your existing SPS and your PC panel or replace them.
Process engineering advice
Support from experts
As a pioneer in extrusion technology, Leistritz has developed a rich wealth of knowledge which our customers, above all, should benefit from. That's why just being a supplier of modern extruders and extruder systems is not enough for us. We want to advise you about the optimal applications in the individual areas of application - in terms of process and electrical engineering.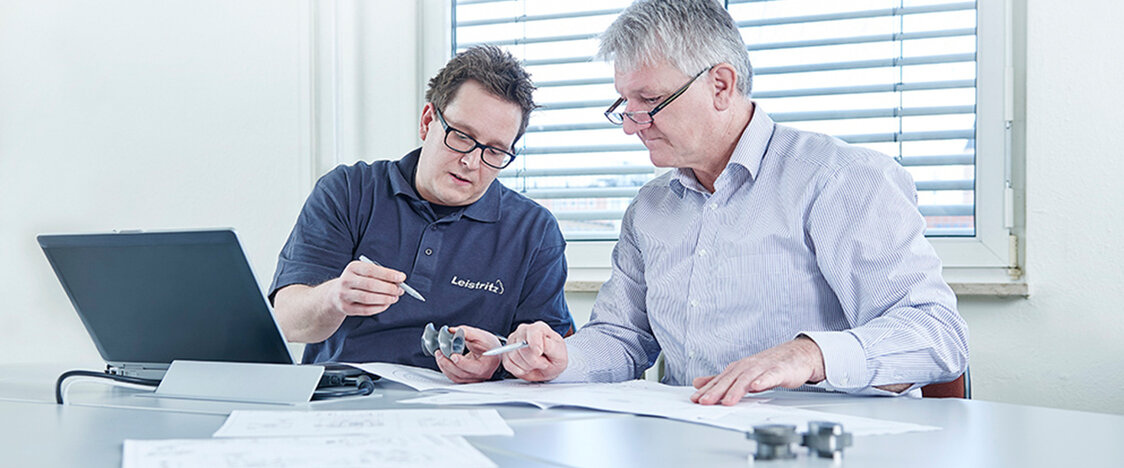 Along with initial diagnosis and help finding a solution over the phone, our process engineers and electrical engineers support you with any questions about the optimization of your extrusion systems with regard to quality and output capacity. In addition, our effective expert team, including a top-class network of partners, also helps you with difficult processing tasks.
Testing
Plastics and pharmaceutical lab facilities
If you want to put our extruders to the test with your materials, then you're in the right place at our lab facilities in Nuremberg, Somerville (USA) or Taicang (China). Here, you can perform project-specific trials under real production conditions. Our extrusion systems are designed in a modular and flexible way so that not only the machine set-up itself but also the screw geometries and barrel set-ups can quickly be adjusted if necessary.
You benefit not only from our machinery but also, above all, from our engineers' many years of experience which they apply to providing you with comprehensive guidance and advice during your project. Alongside the three lab facilities for the plastics industry, there are also labs available in Nuremberg and Somerville for trials in the pharmaceutical industry. Worldwide, we have excellent facilities which you can use for your individual tests.
In our lab facilities, you can work, among others, with:
NANO 16, ZSE 18 HP-PH, ZSE 18 HP - ZSE 50 HP, ZSE 18 MAXX - ZSE 50 MAXX
all standard pelletizing and metering systems, even downstream shaping systems in lab scale and, to some extent, even in production scale
analysis options with the Batchtester 20 (pressure filter measuring device) and more
Schulungen / Trainings
Machen Sie Ihre Mitarbeiter fit
Durchsatz- und Qualitätsoptimum – die Grundlage dafür ist gut geschultes Bedienpersonal, das in jeder Situation das Beste aus Ihrem Extruder oder Ihrer Extrusionsanlage herausholt.
Fit durch Wissen - Gerne geben unsere Experten Ihr Wissen rund um die Extrusion, die Bedienung des Extruders und aus dem Bereich Verfahrenstechnik an Sie und Ihre Mitarbeiter weiter.
Die Leistungen des Schulungs-Centers im Überblick:
verschiedene, aufeinander aufbauende Schulungsmodule
individuell auf Ihre Anforderungen zugeschnittene Trainingssessions
Schulungen bei Leistritz oder in-House
Leistritz Extrusion Academy BASIC, PRO und PHARMA