Sophisticated down to the last detail as standard.
Especially with regard to cleanability and easy handling, this "i"ntegrated twin screw extruder convinces. The ZSE 60 iMAXX
is therefore ideal for masterbatch production and compounding tasks: Product changes can be carried out quickly and
with little effort. Also included: All the advantages of the iMAXX series: Flexibility. Modularity. A high specific torque of
up to 15.0 Nm/cm³ in combination with a high free volume (Da/Di = 1.66). This makes it one of the world's most powerful
co-rotating twin-screw extruders.
Advantages
Torque (up to 15 Nm/cm³)
Volume (Da/Di = 1.66)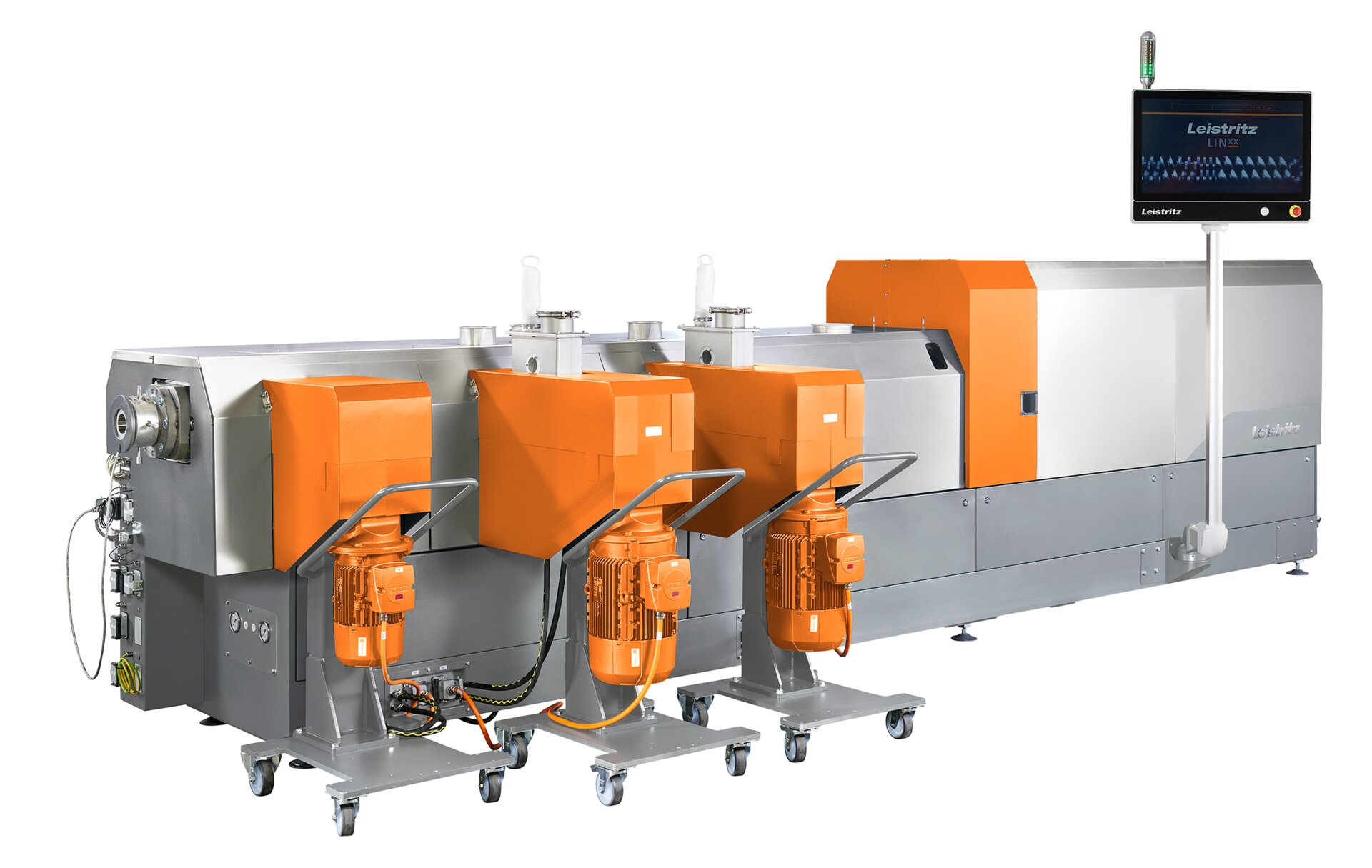 1
Proven ZSE MAXX technology:
Da/Di = 1.66 Torque density = 15 Nm/cm³
2
Powerful & energy-efficient synchronous motor
3
New intelligent control technology LinXX
4
Barrel insulation for maximum energy efficiency
5
Durable stainless steel piping
6
Integrated 2-circuit temperature control unit
Further features of the ZSE 60 iMAXX:
Die head LSA XX*/**:
Only 3 handgrips for easy & safe handling
For fast cleaning & quick product changes
Removable screen & die plates
Premium materials: For optimal performance
Corrosion-resistant stainless steel piping
Screws, shafts and cylinders in corrosion and abrasion-resistant design*
Long service life, even for extreme demands
Closed cover: More safety, easier cleaning*
Closed cover over the entire drive unit and process part
Protection against contact and contamination
Higher cost-effectiveness with frequent product changes: Reduced downtimes, high time savings
Smart online gear control sensors*:
Minimized maintenance costs
Oil level monitoring signals automatic undercutting of the minimum level
Oil condition sensor assesses actual state and shows actual oil wear
*Optional additional equipment
**Available up to size 40
Technical data

ZSE 60 iMAXX
| | |
| --- | --- |
| Screw diameter (mm) | 61,6 |
| Flight depth (mm, without tolerance) | 12,2 |
| Da/Di | 1,66 |
| maXXstandard torque (Nm) | 2.625 |
| maXXtorque torque (Nm) | 3.750 |
| Screw length | 36 D - 48 D |
| Screw speed (rpm/min) | 600, 1.200 |
| Motor power (kW, max.) | 498 |
| Weight (kg) | ~ 5.000 |

No responsibility is taken for the correctness of the specifications provided. The specified values depend on the used material type and its consistence as well as on the environmental variables (temperature, humidity etc.) and further factors. Weight and dimensions depend on the processing length (length provided in mm) among other things. If you inform us of your individual demands, we will gladly make a binding offer.
Have we awakened your interest?
Then contact us! We will be happy to answer your questions about the Leistritz iMAXX extruders in a personal meeting.
Our experts will be happy to advise you!