The following is included in this e-tech newsletter:
ZSE-3D filament system installed in Leistritz NJ process laboratory
Twin Screw Extrusion Workshop to be held Nov. 28-29, 2018
Featured product: LSE vent stuffer series
Technical article: Installing and commissioning twin screw compounding systems
Leistritz presenting two papers at Plastics Technology's Extrusion 2018 Conference
Upcoming exhibit/presentation schedule
Leistritz will host its' annual Twin Screw Extrusion Workshop on Nov. 28-29, 2018 in NJ. As always, classroom sessions are supplemented by "hands-on" twin screw extrusion operating experienc Twin Screw Extrusion Workshop to be held November 28-29, 2018
Since 1990 5000+ have attended Leistritz educational programs!
Leistritz will host its' annual Twin Screw Extrusion Workshop on Nov. 28-29, 2018 in NJ. As always, classroom sessions are supplemented by "hands-on" twin screw extrusion operating experience. A partial list of topics is as follows:
Co-rotating and counterrotating twin screw extrusion technology
High speed, energy input (HSEI) twin screw extruder theory and design
Comparison to low speed, late fusion (LSLF) designs
Screw design and process techniques
Techniques for dispersive and/or distributive mixing
Sequencing of multi-stage process operations
Devolatilization process techniques and practices
Scale-up of the twin screw extrusion process
Feeder and material handling for pellets, powders and liquids
Gear pumps and screen changers
Pelletizing: strand cut, water ring, and underwater
Direct extrusion for sheet, film, fibers and profiles
Reactive processing
Process troubleshooting
Control and monitoring options
Screw assembly and disassembly
Twin screw extruder maintenance tips and procedures
"Hands-on" demonstrations at Leistritz NJ process laboratory will include:
Co-rotating and counterrotating twin screw extruders
Devolatilization via extrusion: ambient, vacuum assist, multi-stage
Downstream addition of fillers, fibers and additives
Direct sheet/film extrusion with gear pump front-end
Foam extrusion via supercritical injection
For an example of the interactive screw design and assembly session that will be integrated into the program CLICK HERE.
In addition to Leistritz staff, industry and academia will contribute to the program.
To receive the detailes program agenda please contadt Sarah Scovens (sscovens@leistritz.com).
Dates: November 28-29, 2018
Place: Classroom sessions are held at the Holiday Inn Select in Clinton, NJ. Equipment demonstrations are at the Leistritz Process Laboratory. Transportation is provided to/from the demonstrations.
Cost: $800 (includes handout materials, lunches, and dinner on day 1)
To register for this program contact Sarah Scovens at 908/685-2333, X614 or e-mail sscovens@leistritz-extrusion.com
To download a registration form for the Twin Screw Workshop CLICK HERE.
Leistritz expands NJ laboratory: 3D filament system installed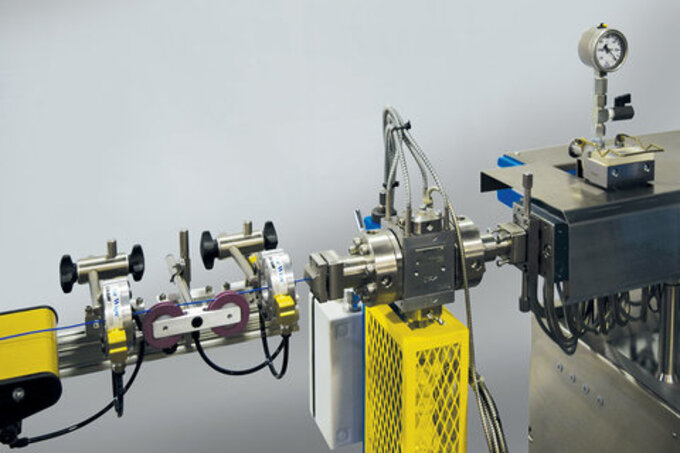 A recent addition to the Leistritz New Jersey process laboratory includes a ZSE-3D filament system that facilitates the development and production of 3D filaments directly from the twin screw extruder, as well as other tubes and profiles. Direct extrusion of raw materials results in one-less heat and shear history. The ZSE-3D system consists of the following:
Co-rotating twin screw extruder configured for compounding, devolatilization and/or REX
Loss-in-weight feeders for pellets, powders or fibers · Liquid injection system Gear pump front-end attachment
3D filament die to produce 1 to 5 mm diameter parts
Air-rack for air quench cooling or water tank with sizing bushing
Downstream system: belt puller, laser gauge and winder or cutter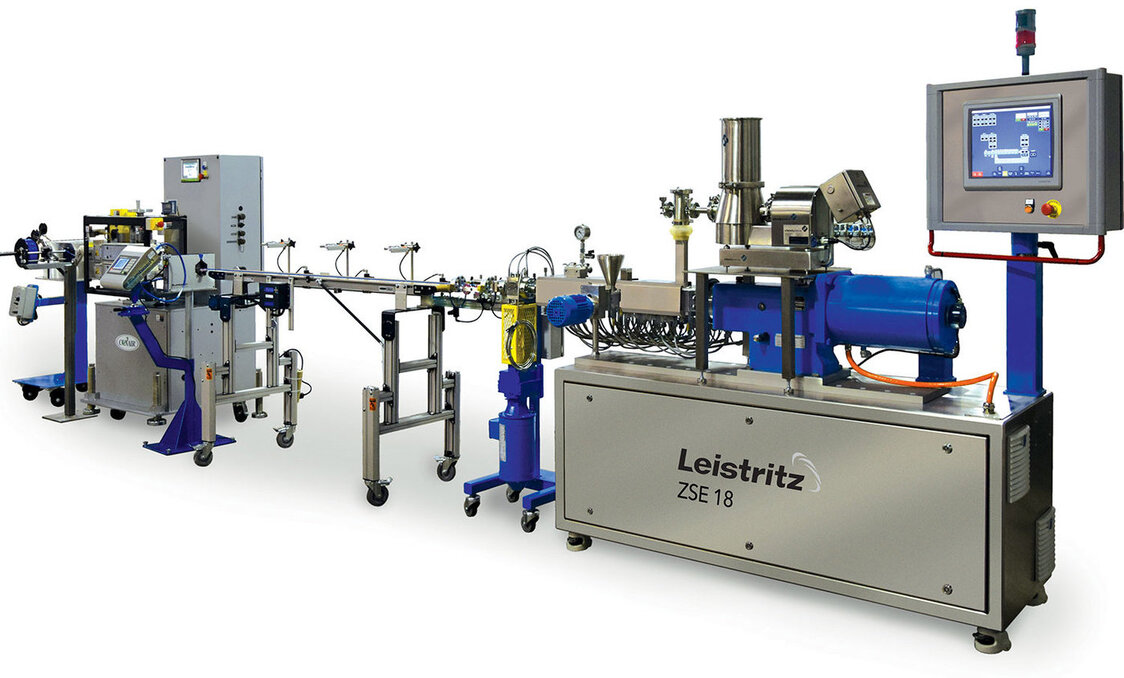 The ZSE-3D twin screw system as configured is ideal for in-line compounding of polymers with additives and active-fillers to quickly develop new filaments and formulations. Formulations can be modified "on the fly" for rapid sampling of modified filaments with different formulation percentages. A sample can be produced every 10 minutes.
The ZSE-3D twin screw system in the Leistritz laboratory is rated for 425C operation, is configured for water-soluble and high-temperature engineering polymers.
Other capabilities available in the Leistritz laboratory include:
Pelletizing systems: strand, underwater and hot-face
Film and sheet systems: mono-layer and co-extruded
Super-critical CO2 injection for foaming and stripping
Multi-stage devolatilization
Controlled environment for GMP development
Featured product: LSE vent stuffer series
The LSE vent stuffer series is a top or side mounted twin screw stuffer that mates with a vented barrel section to push materials back into the process melt stream while venting. This device is particularly useful for high-level devol applications where the associated vent velocities can cause material to fly out of the vent, evolving vent blockage and other adverse results.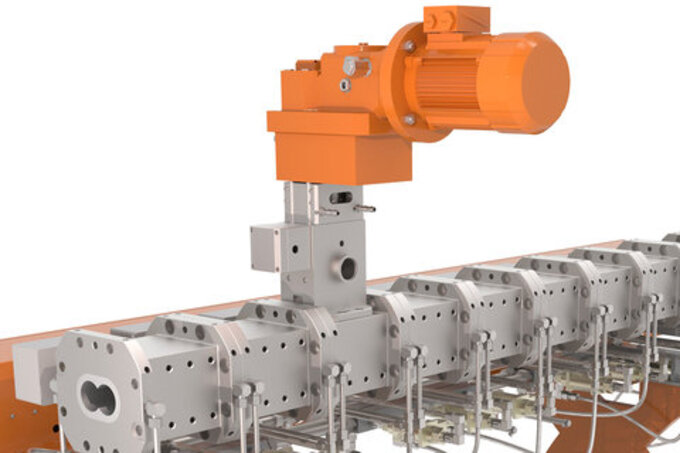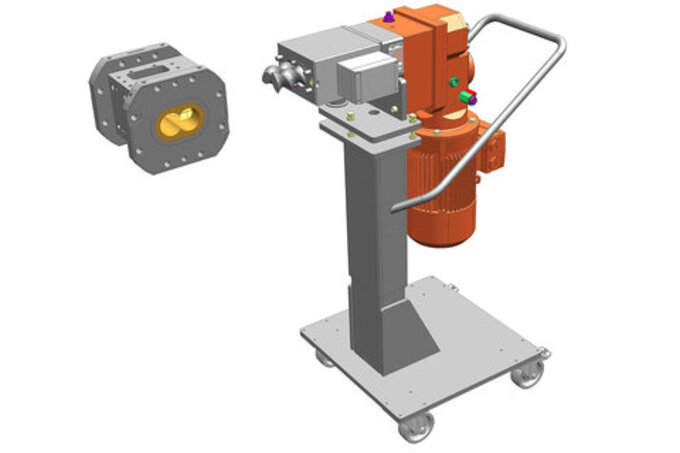 Barrel and LSE side vent stuffer
Please note:
The LSE Barrel is heated to prevent condensation
LSE top vent stuffers are assisted by gravity
LSE side vent stuffers can be configured for draining
LSB side stuffers can be reconfigured as a vent stuffer
Either type can be interfaced to a vacuum pump
To download a paper that address devolatilization theory CLICK HERE.
Technical article: Installing and commissioning twin screw compounding systems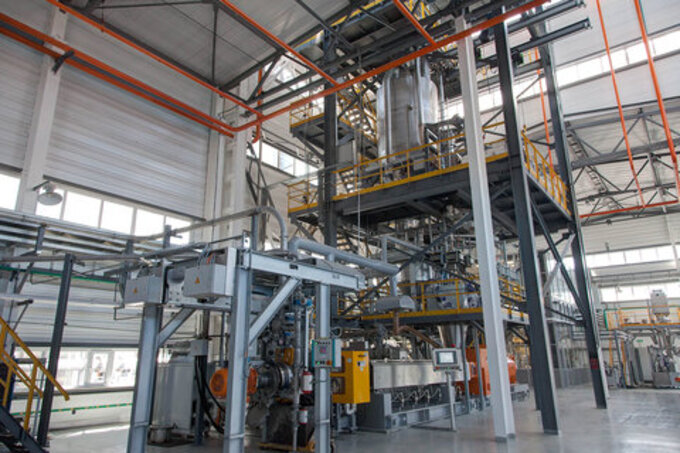 (reprinted courtesy of Plastics Technology Magazine)
When you are installing a twin screw extrusion system for compounding, devolatilization, reactive and direct extrusion, purchasing the correct equipment is only part of the equation. Not unlike an addition to your house, communication and selecting the right contractors will make all the difference in getting the project completed on time without cost overruns.
Effort will be required on your part. You must be prepared to provide detailed specifications and engineering documentation up front to any companies, including machinery suppliers, that offer turnkey solutions. An organized engineering effort is required to provide an accurate turnkey system and installation proposal. A word to the wise: Don't overly rely on third parties.
What you will learn in this article:
Document: Provide contractors all relevant specs
Prepare: Site preparation and coordination of multiple tasks are best not left to chance
Install: Establish available resources...local contractors are generally preferred
Commission: Installation and operational qualification protocols before starting production
To download this article in its' entirety CLICK HERE.
Leistritz presenting two papers at Plastics Technology's Extrusion 2018 Conference
Sept. 18-20, 2018 in Cleveland, OH
In the conference's general session, Charlie Martin, Leistritz president and general manager, will be speaking about Managing Melt Temperature in a Twin-Screw Extruder. Leistritz will also be presenting in the Compounding track, with Augie Machado addressing Preventative Maintenance and Component Wearing Theory.
Leistritz has spoken at all four of Plastics Technology's Extrusion Conferences and is also a tabletop exhibitor.
For more information on Extrusion 2018 see www.extrusionconference.com
Industry events where Leistritz will participate
BEPS Conference - Aug 15-17, Troy, NY; Charlie Martin presenting Processing Developments to Compound and Devolatilize Bioplastics Formulations via Twin Screw Extrusion
NatureWorks™ Innovation Takes Root - Sep 10-12, San Diego, CA; presentation by Charlie Martin entitled: The Importance of Twin Screw Extrusion System Design When Processing Ingeo™ Polylactide
Extrusion 2018 - Sept. 18-20, Cleveland, OH. (see article above)
Thermoplastic Elastomers Conference - Sep 18-20, Akron, OH; presentation by Charlie Martin entitled: Supercritical Fluid Injection in Twin Screw Extruders- Applications and Tips for TPEs
SPE Color & Appearance Division RETEC - Sep 23-25, Charleston, SC; tabletop display
AAPS Annual meeting - Nov 5-7, Washington DC; 10' display (booth# 1403)
Polymer Processing Society PPS-18 - Nov 5-9, Boston, MA; sponsor + Charlie Martin presenting Optimum Screw and Process Designs for Twin Screw Extruders for PLA Formulations
Leistritz Twin Screw Extrusion Workshop - Nov 28-29, Clinton, NJ (see article above)
We are looking forward to meeting you at these events.
Until then, enjoy reading!
Your Leistritz team
To receive more information on anything contained in this newsletter e-mail sales@leistritz-extrusion.com.
Leistritz Extrusion
175 Meister Ave.
Somerville, NJ, 08876, USA
ph: 908/685-2333
e-mail: sales@leistritz-extrusion.com
www.leistritz-extrusion.com