The following is included in this e-tech newsletter:
Twin screw continuous mixing system for soft gel capsule casings
Featured study: Comparison of Operating Conditions annd Formulations on a Counterrotating, Intermeshing Twin Screw Extruder
Leistritz to present posters and exhibit new multi-mode twin screw extruder @ PharmSci360 Nov. 3-6, 2019 in San Antonio, TX
Pharmaceutical Extrusion Technology textbook: 2nd Edition now available
Leistritz Twin Screw Extrusion Workshop to be held December 4-5, 2019
Continuous twin screw extrusion system for soft gel casing replaces batch mixing operations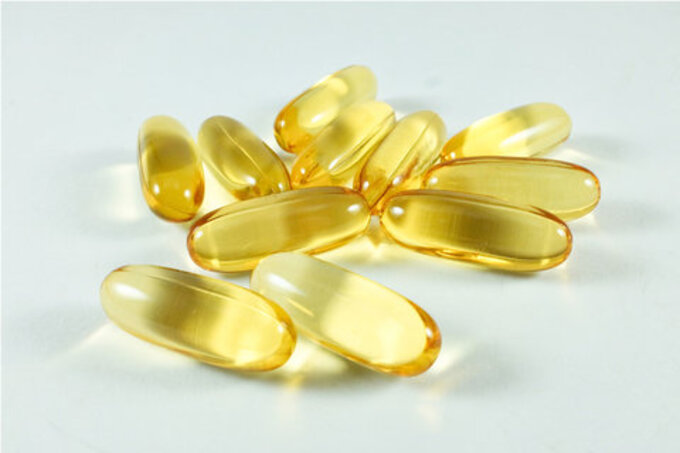 Soft gel capsules are dosage forms that have an oblong and smooth casing that encapsulates a liquid. The soft gel casing (or gel-mass) is formulated by mixing together gelatin (or alternative material) with water, plasticizer and other ingredients. Historically, soft gel casings have been prepared in a batch mixing operation that takes many hours to complete.
It is possible to perform the same functions in a continuous twin screw extrusion mixing process. The accelerated mixing and short residence time (approx. 1-2 minutes) inherent with the twin screw extrusion TSE process, avoids degradation. And it is recognized that continuous processing is more consistent and repeatable, as compared to batch processing.
Leistritz has developed a TSE system to continuously mix and condition soft gel casing formulations. Raw ingredients (gelatin, starches, water, plasticizer, colorants and flavors+) are sequentially metered into the TSE process section and heated, hydrated, mixed, conditioned and pumped to an intermediate filling station. The filling station typically refills 2 spreader boxes to form thin webs on chilled rolls which are integrated with die rollers and liquid injection apparatus to produce soft gel capsules. Alternatively, the twin screw extruder can directly meter into the film dies, facilitating a continuous operation and eliminating componentry.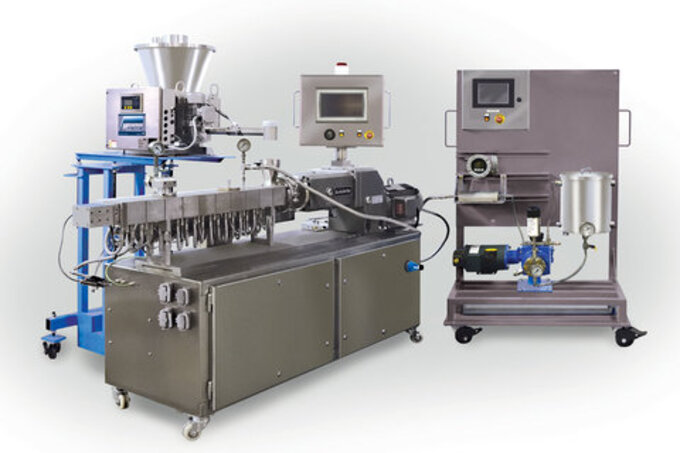 The system includes solids and liquid injection feeders. A GMP model twin screw extruder includes a modular process section manufactured from stainless steel, vacuum venting and PLC based controls. A filling station (or pressure building pumps) are specified downstream from the TSE. AC wash-down motors specified, and recipe management and real time monitoring of process parameters ensures a consistent, quality product.
An equivalent gel-mass twin screw system is available for process development and testing at the Leistritz New Jersey, USA process laboratory.
Leistritz Hosts 1st Annual Granulation Consortium in Nuremburg, Germany
The concept of the Leistritz Granulation Consortium is simple. Leading representatives from industry and academia will periodically assemble to brainstorm ideas to advance melt and wet granulation technologies, including but not limited to:
Discussing existing challenges and opportunities available via twin screw granulation
Defining and reporting experiments for twin screw granulation studies
Identifying unique formulation/applications
Conceiving new hardware developments to facilitate expanded use twin screw granulation processes
The inaugural Leistrtiz Granulation Consortium was held on May 16, 2019 in Nuremburg, Germany. Participants included representatives from AbbVie, University of Texas, Merck, and McMaster University. Everyone contributed in a positive way during the open exchange forum, discussing wide ranging technical issues relating to continuous melt and wet twin screw granulation.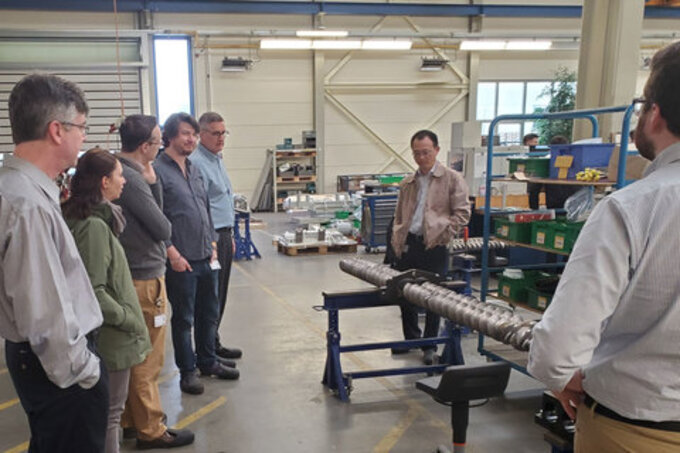 The members tour the Leistritz Nuremburg facility.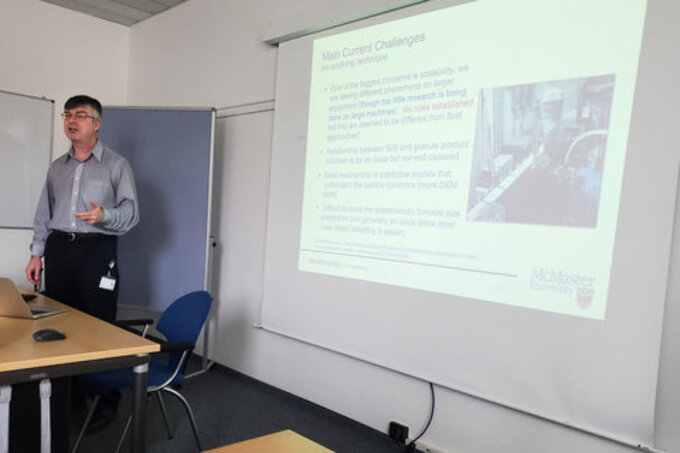 Dr. Michael Thompson, McMaster Univ. addresses the consortium members.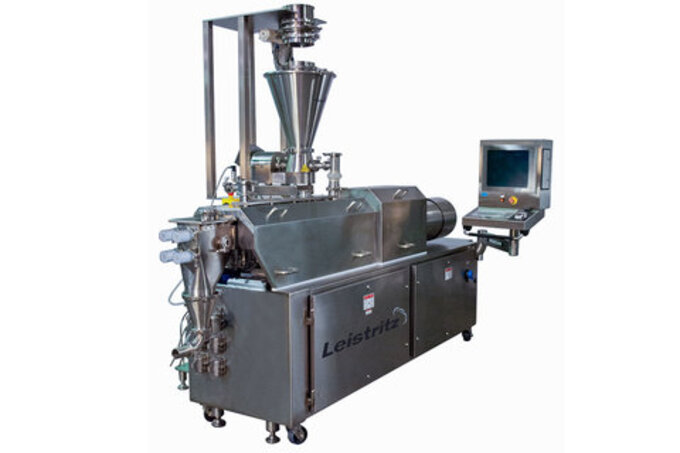 The event was deemed a great success by all! A series of experiments were defined, including a comparison of different process sequencing and scale-up with anticipated publication in 2020. The event concluded with group dinner and tour of historic Nuremburg.
We look forward to making this an annual event to help advance granulation technologies from formulation, equipment and validation perspectives.
Click HERE to download AAPS Extrusion Granulation Article.
Comparison of Operating Conditions and Formulations on a Counterrotating, Intermeshing Twin Screw Extruder
Energy input must be strategically balanced to perform mixing functions without degradation of API. At the AAPS 2017 Leistritz collaborated with University Texas at Austin to present a poster that compared focused on counterrotating intermeshing twin screw extruder (TSE) systems:
This study compared operating conditions and formulations to enhance solubility and recovery of Meloxicam (MLX) in Copovidone. While the co-rotating, intermeshing, TSE is more commonly used in pharmaceutical R&D and production, the counterrotating TSE is also a viable, and sometimes preferred, to process heat and shear sensitive formulations. Changes of screw rpm, temperature, residence time, residence time distribution, and feed rate all played roles in both degradation and solubility. The study reinforced that optimized conditions and formulation development must be defined on a case to case. In this study, lower temperatures, longer and RTD, and the addition of a stabilizer to the formulation all helped increase recovery to near 100%.
Visit Leistritz at Pharm360 in San Antonio, TX on November 3-6, 2019!
AAPS 2019 PHARMSCI 360, San Antonio, Texas
Henry B. Gonzalez Convention Center
Leistritz to exhibit in Booth 1019
Leistritz will be presenting a number of posters, and will also be exhibiting a new design twin screw extruder that is capable of multi-mode processing, capable of melt extrusion, wet and melt granulations merely by changing screw, barrel and discharge componentry.
To schedule meeting at AAPS contact Stuart Kapp at stukapp@leistritz-extrusion.com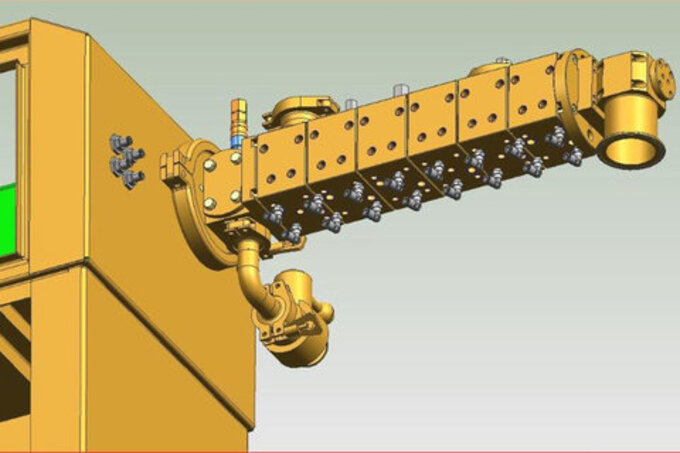 Multi-mode twin screw extruder system to be introduced at AAPS 2019
Pharmaceutical Extrusion Technology, 2nd Edition now available- includes contributions from 6 Leistritz affiliated authors
Edited by: Isaac Ghebre-Sellassie, Charles E. Martin, Feng Zhang, James DiNunzio
The first edition of Pharmaceutical Extrusion Technology, published in 2003, was deemed the seminal book on pharmaceutical extrusion. Now it is expanded and improved. Pharmaceutical Extrusion Technology, Second Edition (2018, 400+ pages) reflects how the continuous extrusion process has spawned numerous research activities, in addition to hardware, application and process advancements. New authors, expanded chapters and the latest studies provide all the latest technical information necessary for the development, and manufacturing pharmaceutical dosage forms via extrusion.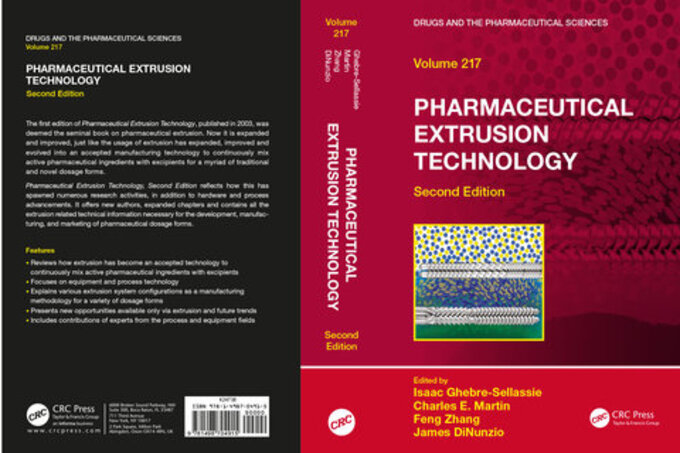 Features:
Reviews how extrusion has become an accepted technology to continuously mix active pharmaceutical ingredients with excipients
Focuses on equipment and process technology
Explains various extrusion system configurations for a variety of dosage forms
Presents new opportunities available only via extrusion and future trends
Includes contributions by experts from the process and equipment fields
For more information or to order the book please click HERE.
Leistritz Twin Screw Extrusion Workshop to be held December 4-5, 2019
Dates: December 4-5, 2019
Place: Classroom sessions, Clinton, NJ. Demonstrations are at the Leistritz Process Laboratory.
Cost: $800 before Nov. 8th, $900 thereafter
Leistritz will host its' annual Twin Screw Extrusion Workshop on December 4-5, 2019 in NJ. Although focused on plastics, many representatives from Life Science have benefited by attending this program.

A partial list of topics includes:
Co-rotating and counterrotating twin screw extrusion technology
Techniques for dispersive and/or distributive mixing
Sequencing of multi-stage process operations
Devolatilization process techniques and practices
Scale-up of the twin screw extrusion process
Feeders and material handling for pellets, powders and liquids
Downstream systems: tube, profile, film, sheet, laminate, fibers+
Control and monitoring options
Twin screw extruder maintenance tips and procedures

"Hands-on" demonstrations at Leistritz NJ process laboratory will include:
Co-rotating and counterrotating twin screw extruders
Devolatilization via extrusion: ambient, vacuum assist, multi-stage
Pelletizing: hot face cut, underwater and strand
Direct sheet/film extrusion with gear pump front-end
Foam extrusion via supercritical injection
Screw assembly and disassembly

Leistritz staff, industry and academia will contribute to the technical program.
For more details or to register for the Twin Screw Workshop please click HERE.

We look forward to seeing you and discussing your twin screw needs.

Leistritz Extrusion
175 Meister Ave.
Somerville, NJ, 08876, USA
Tel +1 908-685-2333
e-mail: sales@leistritz-extrusion.com
extruders.leistirtz.com