The following is included in this e-tech newsletter:
NPE 2018 preview and free registration link
Leistritz Pharmaceutical-Nutraceutical Extrusion Seminar June 6-7, 2018
Technical paper: Twin Screw Extruders as Continuous Mixers from a Technical and Historical Perspective
Leistritz to participate at 2 upcoming SPE Extrusion Minitecs in June 2018
Calendar of events
NPE 2018
New and wide-ranging twin screw extruder related technologies to be highlighted at the Leistritz booth # W5545
ZSE 18 3D filament system
The ZSE 18 system will consist of: loss-in-weight feeders, the ZSE 18 co-rotating twin screw extruder, gear pump, die to produce 1 to 5 mm 3D filaments, a custom air-rack for air quench cooling and sizing of the filament, belt puller, laser gauge and winder. The control system will integrate closed-loop pressure control to ensure a tight tolerance product.
The ZSE 18 system is ideal for in-line compounding of polymers with additives and active-fillers to quickly develop new filaments and formulations. Formulations can be modified "on the fly" for rapid sampling of modified filaments with different formulation percentages. A sample can be produced every 10 minutes.
The ZSE 18 system is rated for 425 °C operation, for high-temperature engineering polymers, and designed to process 1 to 20 kgs/hr. Larger production ZSE systems are available for filament, profile and shape extrusion. The system as described will be available for testing in the Leistritz Somerville, NJ process laboratory after NPE 2018.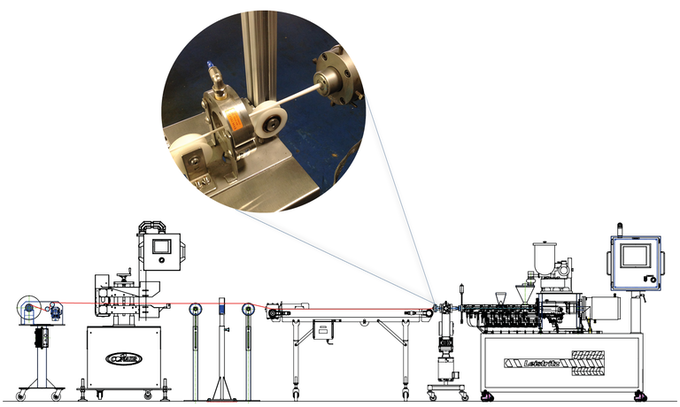 ZSE 50 MAXX twin screw extruder system
Leistritz will also display a ZSE 50 MAXX that includes a modular design for barrels and screws and an insulated barrels cover. What's unique about this system is that the extended length facilitates multiple downstream operations including multi-stage venting, liquid injection and two LSB 50 XX side stuffers for filler/fiber introduction into the melt stream. The ZSE 50 MAXX is ideal for wide ranging compounding and can be equipped with a 600 HP AC motor and produce 1,000 kgs+/hr at 1,200 screws rpms.

The LSB XX series side stuffer is supplied with high-volume twin screws to push materials with low bulk densities into the process melt stream. The screws can be segmented. The LSB barrels can be jacketed for cooling or heating. Internal cooling of the screws is optional.
Other equipment in the Leistritz booth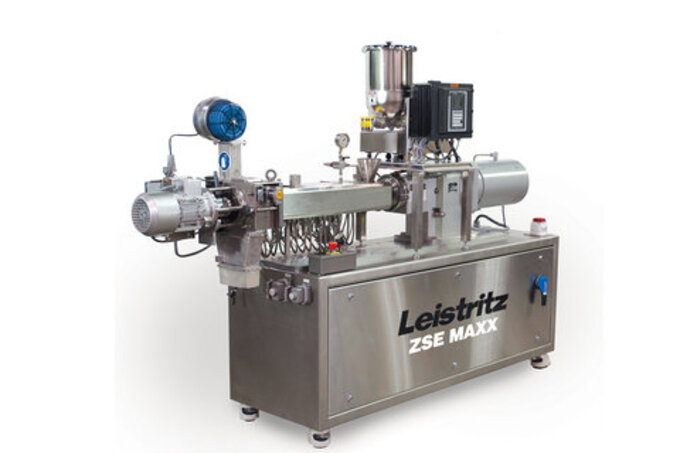 ZSE 27 MAXX co-rotating twin screw extruder with an LHLG model air quench pelletizer attachment, which is ideally suited for highly filled and water-soluble compounds.
Comparison of PLC/HMIs: Various control architectures will be displayed, including Allen-Bradley and Siemens model PLCs and HMIs. Both types are equipped with remote VPN accessibility for process analysis and troubleshooting.
Leistritz Elongational Rheometer: This device mates to an extruder and a small amount of the melt flow is diverted, measured and returned to the extruder to facilitate on-line analysis and adjustment of shear and elongational viscosities
It's not all business:
Twin Screw Challenge Game Show: Test your knowledge of twin screw extrusion technologies with this interactive game..... and win prizes
NPE end of the day relaxation session: Revisit the Leistritz booth Monday-Thurs. at 4pm to unwind and enjoy a beer, wine or soda, recap the day and reminisce. All are welcome!
CLICK HERE for more information on NPE2018 and to register for free.

Leistritz will host its' Pharmaceutical-Nutraceutical Extrusion Seminar on June 6-7, 2018 that will focus on the latest melt extrusion and granulation technologies for pharmaceutical and nutraceutical products. This "hands-on" seminar starts with the basics and explains why the continuous twin screw extrusion process is the preferred manufacturing method to make a consistent and repeatable dosage delivery mechanism.
PROGRAM AGENDA
Day 1 - Wednesday, June 6, 2018
8:45 AM - Opening Remarks
Twin Screw Extrusion Theory, Tips and Test Results - Charlie Martin, Leistritz
Twin Screw Design, Processing Guidelines and Scale-Up - Bill Thiele, Leistritz
Developments in Twin Screw Granulation - Mike Thompson, McMaster University
Lunch
Hot-Melt Extrusion Viewed as a Special Polymer Compounding - Costas Gogos, Polymer Processing Institute
Downstream Extrusion Equipment for Processing Shape Extrusions in Pharmaceutical Applications - Bob Bessemer, Conair Group
Continuous Twin-Screw Melt Granulation of Thermally Labile Drug / Case Study - Tony Listro, Foster Delivery Science
Impact of Excipient Variability on Continuous Wet Granulation - Kathrin Nickel, Leistritz AG
"Live demos" at the Leistritz laboratory
nano-16 twin screw extrusion system processing 50 gram batch samples
Film/lamination extrusion system as used for transdermal or dissolvable film applications
Melt extrusion of poorly soluble active ingredients
Foaming of an extrudate via sCO2 injection
Wet and melt granulation
Reception / Dinner
Day 2 - Thursday, June 7, 2018
Design and Application of Twin Screw Extruder Elements - Brian Haight, Leistritz
Understanding the Extrusion Design Space of HPMCAS - Kevin O'Donnell, Dow Food, Pharma & Medical
Industrial Pharmaceutical Application Converting a Fluid Bed Granulation Process to Twin Screw Wet Granulation - Crystal Miranda, Merck
Polymers Meeting the Challenges with Poorly Soluble APIs by HME - Shaukat Ali, BASF
Solubility Enhancement and Targeted Delivery Using EUDRAGIT® and EUDRAGUARD® for Active Pharmaceutical Ingredients and Dietary Supplements - Firouz Asgarzadeh, Evonik
Twin Screw Granulation: A Case Study for Enabling an Adaptive Study Plan - Steve Pafiakis, Bristol-Myers Squibb
Lunch
Stabilizing Meloxicam During Twin Screw Extrusion - Abbe Hasar, Merck
Granulation Technologies, Developments and Applications - Tom Durig, Ashland Specialty Ingredients
Die and Downstream Extrusion Techniques - Augie Machado, Leistritz
Cleaning and Validation of Extrusion Equipment - Bert Elliott, Leistritz
Control Systems for Pharma Extrusion - Pete Palmer, Wolock & Lott
Interactive screw assembly / design demonstration
4:30 PM - Adjournment
Classroom sessions are held at the Holiday Inn in Clinton, NJ, and extrusion demonstrations at the nearby Leistritz Process Laboratory in Somerville, NJ.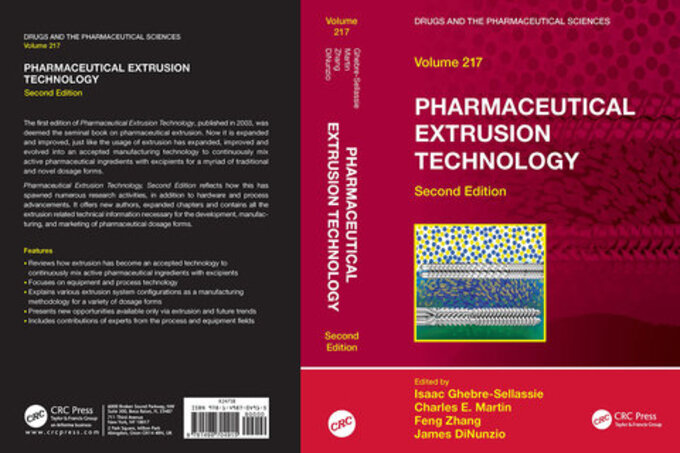 Handout materials: In addition to the presentation materials, attendees will receive a copy of the recently published 2nd edition of the textbook Pharmaceutical Extrusion Technology (a $300 value).

Reserve your seat today! Registration is limited and available on a first come basis.
Price: Early registration, by May 4, 2018, is $820; after this date cost is $920.
Registration: If you have any questions, or wish to register, please e-mail
sscovens@leistritz-extrusion.com or call Sarah Scovens at 908/685-2333, x614
Twin Screw Extruders as Continuous Mixers from a Technical and Historical Perspective
Technical paper for download
Abstract: Developed almost 100 years ago for natural rubber/plastics applications, processes via twin screw extrusion (TSE) now generates some of the most cutting-edge drug delivery systems available. There are many mixing devices, but it has become evident why TSE processing offers significant advantages as compared to other manufacturing techniques. The well-characterized nature of the TSE process lends itself to ease of scale-up and process optimization, while also affording the benefits of continuous manufacturing. Interestingly, the evolution of twin screw extrusion for pharmaceutical products has followed a similar path as previously trodden by plastics processing pioneers.
Almost every plastic has been processed at some stage in the manufacturing train on a twin screw extruder to mix materials to impart desired properties into a final part. The evolution of processing via TSE in the early/mid 1900s is recounted for plastics, and also for pharmaceuticals from the late 1980s until today. The similarities are apparent. The basic theory and development of continuous mixing via co-rotating and counter-rotating TSEs for plastics and drug is also described. The similarities between plastics and pharmaceutical applications are striking.
To download this paper in its' entirety:CLICK HERE
Editor's note: Paper courtesy of AAPS, originally published in 2016
Leistritz to participate at 2 upcoming SPE Extrusion Minitecs in June 2018
Leistritz will be participating at and contributing to 2 upcoming SPE extrusion Minitecs. These programs are a great value (only $200 to attend) with presentations by SPE board members and industry experts. Programs are scheduled as follows:
SPE Extrusion Minitec #1, June 14th, 2018
in cooperation with Michigan State University at The Institute for Advanced Composites Manufacturing Innovation in Detroit, MI.
The program will include:
Technical presentations by SPE Extrusion Div. Board members and others
Tour of the IACMI facility, see: iacmi.org
Tabletop displays/corporate sponsorships
Reception to mix & meet with speakers, sponsors and attendees
To see the full Detroit MI program: CLICK HERE.
SPE Extrusion Minitec #2, June 21st, 2018
at the Hilton Hotel in Marietta, GA.
The program will include:
Technical presentations by SPE Extrusion Div. Board members and others
Tabletop displays/corporate sponsorships
Reception to mix & meet with speakers, sponsors and attendees
Friday golfing @ championship golf course
To see the full Marietta, GA program: CLICK HERE.
Meet us at one of these events
NPE 2018, May 7-11, Orlando, FL; 50' display, booth # W5545
Leistritz Pharmaceutical Extrusion Seminar , Jun 6-7, Clinton, NJ
SPE Extrusion Div. Regional Minitec, Jun 14, Detroit, MI
SPE Extrusion Div. Regional Minitec, Jun 21, Atlanta/Marietta, GA
NatureWorks™ Innovation Takes Root, Sep 10-12, San Diego, CA; 10' display
Thermoplastic Elastomers Conference - Sep 18-20, Akron, OH; tabletop display
SPE Color RETEC, Sep 23-25, Charleston, SC; tabletop display
Plastics Technology Extrusion Conference, Oct 16-18, Cleveland, OH; tabletop display
AAPS PharmSci, Nov 5-7, Washington DC; 10' display
Leistritz Twin Screw Extrusion Workshop, Nov 28-29, Clinton, NJ
We are looking forward to meeting you at these events.
Until then, enjoy reading!
Your Leistritz team
Leistritz Extrusion
175 Meister Ave.
Somerville, NJ, 08876, USA
ph: 908/685-2333
email: sales@leistritz-extrusion.com
For additional information on anything contained in this newsletter contact Sarah Scovens @ 908/685-2333 or sscovens@leistritz-extrusion.com